With the holidays quickly approaching, I really need to start working towards completing my shopping list. I should be able to get quite a bit finished this weekend because the sales are amazing!
I like to get most of it finished before Black Friday because more stuff is available online if the store doesn't have what I am looking for. There is nothing WORSE than an item being on back order to add stress to the already stressful holiday shopping.
Below you can find some discount codes. I hope you find them helpful. If you are looking for something or need help with choosing a gift for someone, let me know! I'm in the process of making some gift guides for my readers.
This week the weather changed in Houston and it's freezing. Like it's supposed to be 37 tomorrow. I was wearing flip flops the other day and now I'm wearing TWO sweaters and buying stuff online because it's too cold to venture to the mall. Here are a few things I have coming to me this week.
First up, this warm sweater from Ann Taylor . I love the zip detail. It was normally $79 but it's on sale for $42.
And this tee. It has elbow patches and I'm in love. I saw this in the store the other day and it's really soft. Of course they were out of my size so I had to order online. It's normally $49 but it's on sale for $22.
How cute is
THIS
dress from Banana Republic? On sale also!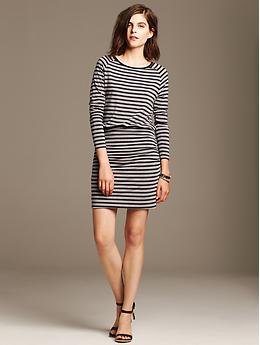 Wow I must really love stripes!
Madewell
Extra 25% off with code: FALLBACK Ends 11.17.14
Kate Spade
25% off with code: BEMERRY Ends 11.17.14
J. Crew
25% off with code: SHOPNOW Ends 11.17.14
Jc Penney
up to 20% off with code: SAVEBIG Ends 11.17.14
Macy's
25% off with code: GIFT Ends 11.16.14
Happy Shopping!
Lura
x